Food recipes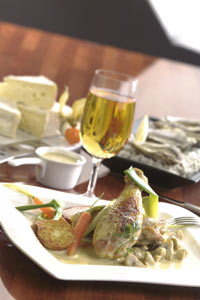 VALLEE D'AUGE CHICKEN
For 4 :
1 free-range chicken
50 g butter
250 g fresh cream of Normandy
6 cl Calvados
salt and pepper 
Heat the butter in a pot and brown the chicken with salt and pepper. Cover and cook over low heat for 40 minutes.
Add warm calvados and make a flambé. Deglaze the cooking juice.
Add fresh cream and simmer low heat. Adjust the seasoning. Cut the chicken into pieces and cover with the sauce.
Serve with a potato gratin.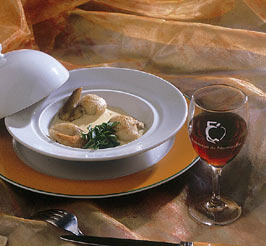 SCALLOPS WITH POMMEAU DE NORMANDY
For 4 :
12 Scallops
3 cl Calvados
3 cl Pommeau
100 g cream
25 g butter
salt, ground pepper
 Brown the scallops with butter on both side and make a flambé with calvados
allow to simmer in cream and pommeau for 3 minutes Sprinkle with chopped parsley and serve hot.
Do not over cook the scallops, it would turn hard.
MONKFISH IN POMMEAU AND CALVADOS
For 4 :
800 g monkfish
2,5 dl thick cream
4 reinette apples
5 cl calvados
5 cl pommeau
1 shallot
150 g button mushrooms
150 g spinach
80 g butter
Salt, ground pepper
Peel and core the apples, cut them into a about 1 cm slices and cook them in 30 g butter and the chopped shallot.
Make a flambé with Calvados, add the pommeau and fresh cream. Reduce the heat and simmer gently.
Clean and chop the mushrooms. Clean the spinach and remove the stalks.
Bake with 30 g butter in a pre-heated oven (thermostat 7-8, 220°) for 8 minutes.While the monkfish is cooking, puree the sauce in a blender then filter it. Keep warm.
Cook mushrooms and spinach separately in 20 g of butter.Serve the monkfish on plates with the apples, spinach and mushrooms. Cover with the warm sauce.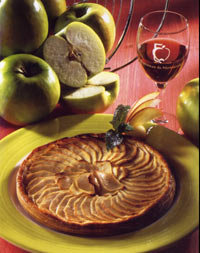 FINE APPLE PIE
For 6 :
1 puff pastry
6 apples
Caster sugar
20 cl pommeau
Peel the apples, cut them into thin slices and marinate in pommeau.
In a pastry dish, place the slices of apples in a shape of a rose on the puff pastry.
Sprinkle with the sugar and put in the oven for 30 minutes at 180°.
Enjoy the lukewarm apple pie with a glass of pommeau.