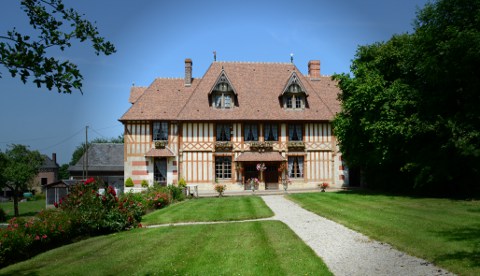 The Estate
Located in Normandy on the Cider Route, in the heart of the Pays d'Auge, The family-owned estate Pierre Huet produces and markets Calvados, Pommeau de Normandie and Cider.
More than 25 varieties of apples are grown on the 30 hectares of orchards composed of either standard trees or cordons trees.
Thanks to the favourable terroir for apple growing, The Pierre Huet Estate produces and markets worldwide, following severe requirements, four out of the six AOC (registered designation of origine) cider products of Normandy.
Calvados Pays d'Auge
Calvados
Pommeau de Normandie
Cider Pays d'Auge
After more than one century of production, the Huet family has gained recognition worldwide for the subtle and delicate art of blends. The calvados "Tradition", "Cordon Argent" and "Cordon d'Or" represent the pride of the Estate.
Since 1921, the Calvados Huet has often been rewarded for the best know-how.
Great chefs of prestigious restaurants have placed their confidence in these products.
Nowadays, the Estate also produces and markets :
Poiré
Cream Pierre Huet
Green apple cream
Liqueur de poire au Calvados
Apple juice
Cider vinegar
The Pierre Huet Estate exports its products in many countries worldwide as : Germany, Belgium, Austria, Italy, Lithuania, the United States, Japan... (for more information, see the Dealers section)