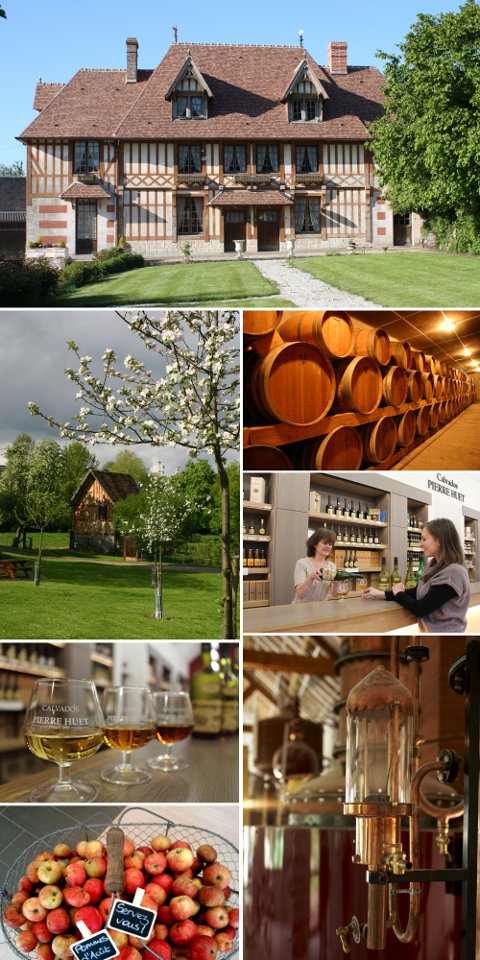 Tours and Tasting
In a group or on your own, we will welcome you throughout the year on a guided tour of the Estate during which you will discover the slow process of transforming the apple into calvados.
You will enter a world where the combination of tradition, quality and innovation are the main concern for the family.
The press and the stills heated with wood, will amaze you as well as the cellars with their century old barrels which will offer you pleasant and subtle exhalations.
Finally, during the tasting, you will appreciate the richness of the Pays d'Auge !
Visits from April 1 to September 30
For a minimum of 4 paying visitors
English tours: Monday and Tuesday at 2.30 pm (except if group reservation already planneded in French)

Visits from October 1 to March 31
For a minimum of 4 paying visitors
French tours from Monday to Friday at 11 am and 3 pm
Useful information
Tour visit + tasting : more or less 1 hour 15 minutes
Spoken languages : French and English.
Opening hours
From Monday to Saturday : 9 to 12:30 am and 2 to 6 pm
Sunday and public holiday : 10 am to 1 pm and 3 to 6 pm
Closed on Sunday and public holiday from October 1 to the March 31
Individual rate 2021
3.50 € per person - Free under 15 years-old
Groups rate 2021
Price list on demand, depending on the availability:
- Guided tour and standard tasting
- Norman snack (our products with apple tarts and/or AOC cheeses of Normandy)
- Catering on site (minimum 20 persons)
Information and reservation
Anne DURAND-KHADREJNANE
+33 (0)2 312 63 01 09
calvados.pierre.huet@wanadoo.fr