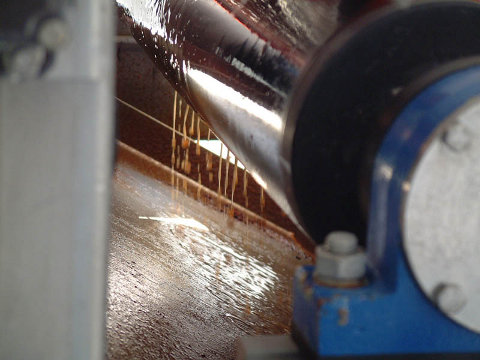 Pressing of apples
Once they have been collected, the apples are sent to the press to be washed, drained, sorted and grated. The pulp so obtained is left out for 1 to 4 hours to bring out the flavours. This process has multiple effects on the quality of the final product.
The tannins released during this maceration increase the amber colour of the must. At the same time, the aromatic intensity of the apples gets stronger and the quality of the juice is enhanced.
By pressing the grated skins, the solid portion "marc de pommes" (pomace) will be separated from the liquid portion "moût de pommes" (must). This "natural apple juice" is the result of the blend of free flowing juice ("jus de gouttes") produced by low pressure and the press juice ("jus de presse") produced by higher pressure. For the AOP cider Pays d'Auge, the yield is limited to 750 litres per ton of apples for a single press and the "rémiage" technique (adding water for a second pressure) is forbidden.
This 750 litres of natural apple juice will be used to produce either Cidre Bouché, Pommeau de Normandy or Calvados.