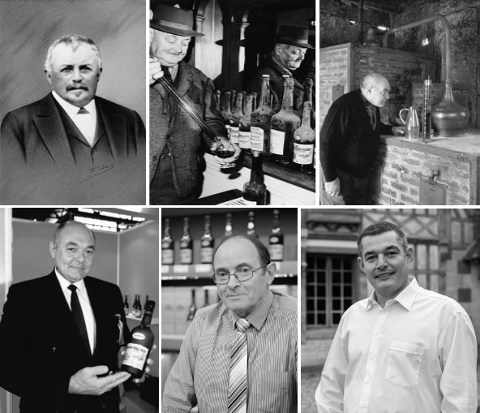 History
In the Manoir la Brière des Fontaines in Cambremer, Philippe HUET and his nephews François-Xavier Huet and Cyril Marchand-Huet who joined him in 2005, carry on with the family tradition initiated by the Great-Grand-Father François Huet.
--- FIVE GENERATIONS OF PRODUCERS ---
François HUET, great grand father (1859-1925)
Produced and stored the Calvados without marketing the products.
Pierre HUET, his son (1890-1975)
The most notable figure of the family, was much involved in the brand reputation by selling the products to prestigious restaurants as Paul Bocuse, Taillevent, Guérard...
François HUET, grand son (1921-2013)
Passionate distiller, has produced vintages which are still the pride of the family
Pierre and Philippe HUET
Great grand sons, who joined the family-owned estate in 1970 and 1972, have worked in line with long standing tradition.
François-Xavier HUET
The fifth generation, joined Philippe HUET in 2005 and honour the memory of Pierre, prematurely deceased on the April 16th 2004.