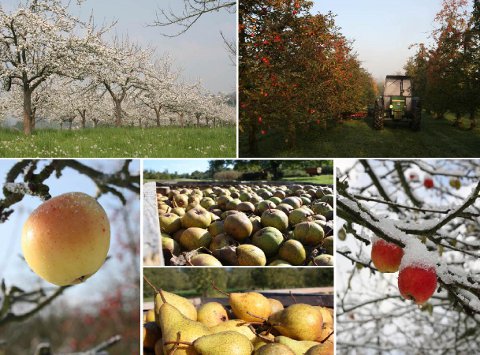 Apple harvesting
The production of apples is strictly controlled in the whole appellation area of Cambremer. The exposure of the orchards and the varieties of apples are carefully verified. A Designation of Origin quality label (AOC) must be earned and maintained. This label guarantees the quality of the products.
The apple varieties, classified in 4 categories : bitter, acidulous, sweet or bittersweet, don't mature at the same time and are not intended for the same kind of production.
The early apples, collected between September 15 and October 30 are generally processed within 48 hours into juice which will be used for Calvados production.
The late apples, collected until December 15 can mature in openwork wooden boxes (palox) in a frost-free place during 3 to 4 weeks. Sugars and flavours accumulate and constitute the main components of a quality cider and quality pommeau production.